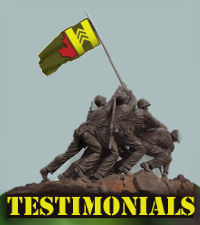 "wow, I love the packpack, and gaiters, thank you very much, boots are perfect!

Look forward in my next order!"
Blaine
"Love that you guys are on top of things.
Thank you very much for all the ease of communication and all the calls. That's the kind of customer service so many airsoft places are lacking. I will certainly be a returning customer.
thanks again!"
Dakota
"Just wanted to thank you for the wonderful customer service and speedy delivery once it was shipped! My boyfriend loved the knife it was beautiful!
Much appreciation"
Mariah
"Just wanted to post my recommendations for Hero Outdoors, and how happy I am with them. Great variety, stock , and excellent customer service and shipping services. I have ordered twice from them now, and I have had nothing but positive experiences, and I look forward to continue to do business with them in the future. Excellent shipping rates, makes leaving home almost not worth the cost especially with today's fuel prices. I own a small business myself and Hero's operation is top notch ! Anyone ordering here will be satisfied I assure you ! "
Mike

"Just received my order --- unbelievably fast, and exactly what I was looking for.
Special thanks to Graham --- I appreciate you following through with what you said you would do!
Wish you guys were in the US where we are running a little short on fast and honest service."
Frank
"Thanks again for helping out with my last order. The recommendation for the LG Condor base layer pullover was spot on. I'm very happy with my order, thanks!
I'll be placing another order around Christmas.
Thanks again for some great service!"
Jason
"I just wanted to thank you for the extremely fast response as well as the very speedy order processing and shipping. I will be advising other members in my Airsoft Community to shop with you as the service I received was top notch!
Thanks Again, I look forward to doing more business with you in the future!"
KL
"Good doing business with you. Many thanks."
Anthony F
"Good Afternoon, I have been in your store and bought a few things, I would like to say that your Customer Service is excellent and of great help.
All of my questions were answered promptly and I learned lots from your staff.
Thank you Hero."
Rob
"Hi thanks got the gun it feeds and shoots very reliably, thanks."
Julius
"Order arrived today.
Thanks for the fast service!"
Merry Christmas,
Graham
"I got my order and I am very happy with every thing I got.
The Uniform fits just perfect on me, The name tag looks so cool.
The Fans fit well and work on my paintball mask.
I will be ordering from you guys in the future.
Thanks"
Andrew
"I just wanted to thank you for the great customer service you provided as well as the extraordinarily quick delivery.
The products arrived Wednesday morning and I am very happy with the products that I ordered.
I surely will look forward to doing buisness with you again in the near future.
Thank you so much"
Matt

"Hello Jeff, just wanted to write back and thank you for taking the necessary steps in order to make me (the customer) happy.
The replacement razors arrived this morning, and Im very happy with them.
So thanks again for being patient with me, for ignoring the small price difference, for upgrading the shipping option, and for offering free shipping on my next order.
I will definitely continue to shop with Hero Army Surplus.
Thanks again"
Andrew
"Just wanted to thank you for the awesome pants a got a week ago And the boonie hat.
I appreciate you calling me up and getting me the better deal.
Fyi I just told my brother about your store and he will be purchasing some Gear from you as well today.
Thanks again."
David

"Just to let u know i just received my items and everything is OK you guys rocks!!!!!!!
thx for everything again it is a pleasure to do business with you and sorry to be a difficult customer to satisfied."
Paul
"Hi Jeff I just ordered the Webley. Thanks for the good service.
Cheers"
David

"Thank you very much sir!
Your store is great and I will recommend you to all my paintball buddies!
Thanks,"
Andrew
"Thanks for the awesome service.
The boots are great and they were in my hands the day after you called.
I will recommend your store to anyone who asks and you can definitely count on my business again.
Your style of customer service is a rare find!
Thanks again,"
Ryan

"THANK YOU so much for the speedy Delivery! I will be telling everyone that I know to order from you!
thanks"
Keith J

"Thank you very much the product arrived today good service and thx for the upgrade.
Always nice to see good service and customer satisfaction.... Look forward to ordering from you again, have a great and safe weekend."
Graham d
"Hi, I was the woman who came in on Saturday and purchased the jacket and t-shirts.
I love everything! I had to stock up on Canada "stuff", since I just found out I am getting transferred to Texas.
Thanks for your help on the weekend.
I may try to come by again before I move."
Bev
"I ordered a five man insulated bell tent from your store about six weeks ago.
I was finally able to use it last week for a fishing trip in northern Saskatchewan.
This tent rocks. The first night I used it it was -39 C outside, -49 C with the windchill.
We were easily able to keep the interior at +25 C. We set it up right on the ice and were able to fish in total comfort.
Thanks for the five star accomodations."
Brad