Blog
Posted on
Founded in Birmingham, England, Webley &Scott started a new venture in air pistols and air riffles after moving away from manufacturing firearms as they had in the 1800's and 1900's. Webley & Scott carved a name for themselves by supplying the British Military with revolvers and automatic pistols during World War I and II. Since then, the company has impressed the industry with famous Webley designs including the Revolver Marks I-VI, the Tempest, Stingray, and Alecto. You have your choice of air pistols in .22 and .177 caliber or air riffles in .22,.177, and .25 caliber. One of the oldest and most trusted names in the gun industry, owning a Webley mean owning a piece of history.
The Webley Tempest is built on the tried and true "barrel over cylinder" design platform - the same way is was 40 years ago! The pistol is designed to fit the hand with a thumb rest and positive-grip checkering, a positively locking barrel using the famous Webley Revolver-type stirrup, adjustable rear sight featuring both horizontal and vertical adjustments, a manual safety catch and and adjustable trigger. The Tempest produces ultimate accuracy with maximum power, It is a single shot spring piston powered pistol that is available in .177 or .22 calibre.
Trigger Pull: The trigger pull on the Webley Tempest is very good, being that it is single action, there is next to no take-up and the pull itself is very light, yet not so light that you would accidentally shoot the gun. This helps a lot with accuracy. And to top it off, you can even adjust the trigger pull weight to your liking from 3-5 pounds!
Accuracy: Being that the Webley Tempest is a spring-piston design, there is a noticeable amount of felt recoil when the spring snaps backwards, and I say backwards because it compresses towards the front of the gun. With many spring-piston rifles the spring snaps forwards almost giving a reverse recoil effect. The Webley Tempest recoil hits you in a familiar direction which makes the airgun feel a bit more natural.
Build Quality: Build quality is very good, most of the gun is all metal with a few plastic parts, basically the nose cap and hand grips, everything else is metal on the Tempest. The Webley Tempest has a nice compact size for a spring-piston design and has a nice weight to it making it feel very solid but not overly heavy. I do have to say the cocking effort is very heavy and you will have to try a few different techniques until you find a way that works for you.
Realism: This is not a replica airgun so to speak of but the basic pistol grips and trigger are designed to replicate a revolver more than anything. The Tempest is very unique and its basic design roots go back to the 1920s.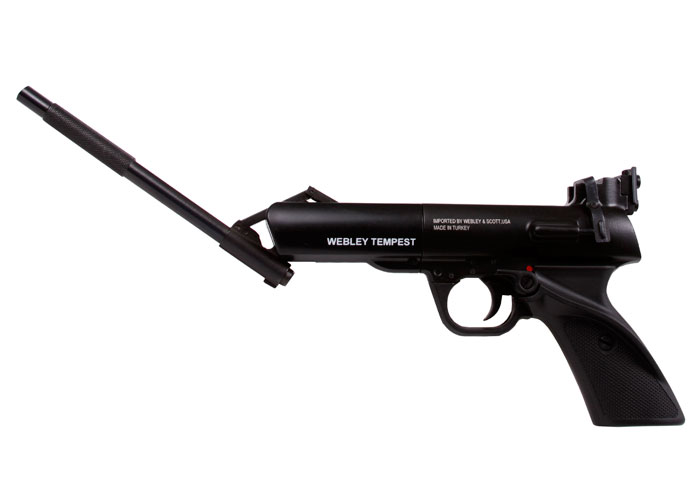 Pros:
Very accurate for a spring-piston air pistol
One crank - one shot
Mostly metal and very solid!
Fully adjustable rear sight for windage and elevation
Small and compact yet very effective power
Trigger pull adjustable from 3-5 pounds
Cons:
If you're left handed the grips will not be as comfortable for you
Sight adjustment will take some time to get right
Spring recoil takes some getting used to so practice - practice - practice
All in all this is a great pistol with a great price!
The company was founded in 2008. A partnership with Food For Health International was disbanded, and Wise Food Storage was created. At that time most prepper food companies presented their offerings in #10 cans. As a change from the traditional process, in a move which helped the company save money while still delivering long-lasting food.The [...]
The Viva Arms M1919 Airsoft Machine Gun (Version 2) is a fabulous work of art and a very good airsoft gun. The gun itself and the tripod are made of aluminum and steel, this give the M1919 a realistic feel but light enough to remain somewhat mobile. The magazine is just a huge ammo can [...]
Summer is just around the corner, are you ready? Whether your into camping and hiking, fishing or kayaking we have want you need from the trusted brands you know.The Chinook Twin Peaks Guide 3 season tent is available in a 4 person or 6 person size Featuring another innovative design concept in family/group tents: Chinook's InterDome, a [...]
For years CYMA has been a leader in producing affordable, reliable and effective Airsoft AEGs, with the introduction of their line of 870 shotgun, CYMA is branching out. The 870 shotgun is one of the best selling and most recognizable shotguns ever produced it has served faithfully in military, law enforcement and civilian hands for [...]
We have some amazing new products that just arrived! You can't go wrong with the NDuR Lightweight Compact Stove w/Case. With it's easy to use design and flame control allows excellent cooking versatility; from a rapid boil to the slightest of simmers this camp stove has you covered. he wind shield built into the stove increases [...]
Introduced in 1957, the M60 machine gun which began development in the late 1940's was designed as a direct replacement to the BAR and the M1919 Browning Machine Gun. It was recognised that a lighter and more robust general purpose machine gun that fired the NATO 7.62mm was needed, with the necessity for increased rate [...]
On Sale now is our Canadian Military Issue T-Shirts. Made of 50/50 Cotton/Polyester Blend you will feel the softness and comfort for all day wear. Currently available in Navy Blue, Olive Drab, Black, and sizes Small to X-Large. Gets your now before they are gone - Be ready for the summer!
The Pocket Shot is the evolution of the slingshot. The patented circular design allows users to load and shoot different projectiles at two to three times the rate of a regular slingshot. Perfect for hunters and recreational use as its tiny size allows you to keep it in your pocket, tackle box, or [...]
EGO LV1.1 PRO - GO PRO!The LV1.1 Pro takes the already tried, tested and trusted LV1 platform a step further by way of subtle exterior modifications and performance enhancing adjustments.The new unibody foregrip improves shooting comfort and marker stability with it's contoured one-piece construction. As a result, the LV1.1 Pro feels and shoots like nothing else [...]